STAFF BIOS
When Roscoe's Ranch opened in 2004, we were the only employees. Guy worked full time with the dogs while Rena went to another full time job in Renton and then helped in the evenings and on weekends.
As our client base grew rapidly, it was clear that we needed more help to maintain the level of service that our clients were accustomed to. Many people get into this business because they love dogs but they don't have a plan for dealing with growth. With 10+ years of experience under our belts, we can tell you that finding, training and retaining quality employees is one of the most important, and most challenging aspects of our job.
We have been very fortunate over the years to have had wonderful employees who truly care about the dogs. We consider ourselves extremely lucky to have the following quality individuals helping us take care of your pups.
Sincerely,
Guy & Rena and Miss Chloe and Lady Mishka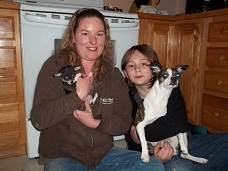 Heather is a Manager at the Ranch and has been dishing out the love to our doggie guests since October 2007. She has always had a soft spot for shy/nervous dogs as well as rescue dogs with trust issues. She prides herself on being able to handle the dogs that all the other kennels turn away. She knew at a young age that her dream job would be working with animals and is so happy to have found her home at the ranch. On her off time she can be found hanging out with her husband and two kids as well as her two Chihuahuas, Pepe and Bruno, as well as a Black Lab named Jewels.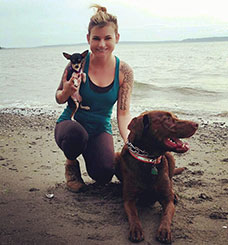 Amy is our General Manager at the Ranch and has been with us since April 2016. Dogs have always played a big part in her life since she can remember. Amy studied sociology and animal psychology at the University of Massachusetts in Amherst. She graduated in 2010 and shortly thereafter, made the move out to the Pacific Northwest. After managing fast paced beauty salons for six years, she sought out a job working with dogs—which is always where her heart was. Amy enjoys caring for our special needs dogs and has a special knack for keeping all of our dogs comfortable and happy while they are at camp. Currently Amy lives in Snohomish with her two Chihuahuas, Ruby and Frankie—who are of course, spoiled rotten!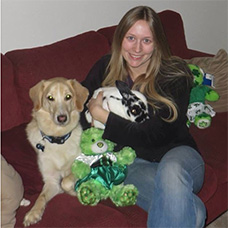 Michelle is our senior kennel technician and has been at the Ranch since April 2014. She loves all kinds of animals, but she has always had a passion for dogs. She enjoyed working as a groomer for a couple years, before taking a job in childcare. While working with kids was a rewarding experience, she is very happy to be back in a career with dogs. Michelle is our go-to gal when it comes to photographing your dogs to send out those beloved pupdates! Michelle currently lives on Lake Goodwin with her husband and their Lab mix, Luka. Luka is definitely a momma's boy and she wouldn't have it any other way.
Andrea is an experienced kennel technician who has been loving on the dogs here since February 2017. She graduated from Monroe High School, and after working at Costco for a few years, just knew she wanted to find a job where she could be outside enjoying the fresh air with four-legged friends. Andrea has a special place in her heart for any of our doggie guests that exceed 100 pounds! Andrea lives in Gold Bar with her husband and their toddler, as well as their golden retriever, Kya, and a brother-sister Lab mix duo, named Sherman & River.