YOUR DOG'S HOME AWAY FROM HOME
Washington State's premier dog boarding facility servicing the greater Seattle area since 2004.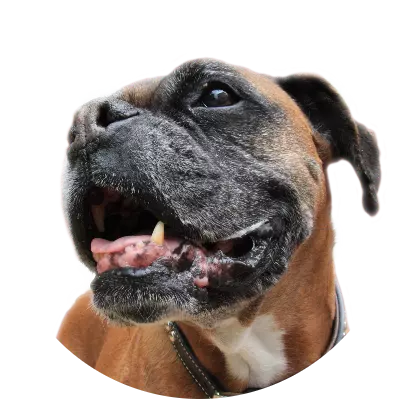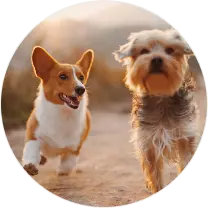 Check Availability
WHY WE ARE BETTER
Your Dog Is Our Guest
---
Our family lives here at the ranch and your dog is a family guest at our home. Your dog will love receiving the same attention and care our own pups enjoy.
Flat Rate Pricing
---
At Roscoe's Ranch, you pay one flat rate which covers all of your dog's needs, including food, medicine administration and 3 exercise sessions (2 off leash play time and 1 trail walk). If you would like to purchase additional play time, you are free to do so at time of booking.
Clean & Safe
---
A great experience starts with a clean, safe kennel and a well managed facility. We pride ourselves on the cleanliness of our kennels and our entire boarding facility. Our kennels are cleaned out every day. When "accidents" happen in the kennels, or on our grounds, they are cleaned up immediately. We use the same disinfecting products that are used by veterinarians and hospitals to prevent the spread of contagious diseases. Each kennel is thoroughly sanitized after a dog checks out and before a new guest arrives.
We also have some of the strictest health requirements of all the Seattle dog kennel/boarding facilities. We do everything in our power to make sure that diseases do not enter our kennel environment. Aside from our business, this is also our home. We have a vested interest in making sure that dog guests do not contaminate our home, our own dogs, or our family.
Boutique Size
---
We kept our facility small because we want to provide personalized service for your dog. We have just 20 dog kennels and 4 luxury cottages at the Ranch.
All Dogs Are Welcome
---
Not all animals get along. It's natural. We avoid dog fights by pairing our guests for play sessions with others who are compatible. Our managers personally select the playgroups for off leash play sessions based on the size, age, energy level and temperament of each dog. If there is not a suitable match for your pup (or your pup prefers to be solo), he or she will enjoy the personal attention of a ranch staff member during play time. We will gladly give your dog exercise by playing Frisbee or fetch without other dogs around.
No Dog Fights
---
Not all animals get along. It's natural. We avoid dog fights by pairing up our guests with others who are compatible. As soon as we detect incompatibility, we make the right time and space adjustment for everyone.
Also, if you don't want your dog to be off-leash at all during their stay at Roscoe's Ranch, that is fine too. We will gladly give your dog exercise by hiking on trails while on-leash. We can play Frisbee or fetch without other dogs around.
No Late Check-out Charges
---
We understand that things come up that throw off your timing and can cause you to be early or late for pickup. And while we like to know our schedule each day, we will never charge you extra for a late pick-up on your scheduled day.
We Support Charities
---
Every month we make a donation to a charitable organization. Always have, always will. A portion of every dollar you spend goes directly to support the mission of both furry and human charity.
Kennels & Cottages
---
All great ranches have barns and ours is no different. Our big barn gives your dog a private 8' x 5' indoor kennel run which is attached, by a doggie door, to an 8' by 5' outside kennel run. That's 80 square feet of ranch living for your pup! Your dog will sleep on a raised bed–just like you do!
Not all ranches have luxury cottages. Ours does! Each of our 4 luxury cottages are 100 sq. feet of indoor space plus 220sq. feet of fenced outdoor space. Each cottage is equipped with its own heater, raised bed, and sound system.
Security
---
Your dog will be safe at the ranch. Our property is surrounded by a 6 foot high solid cedar fence, and our off leash areas are enclosed by a fence within another fence. So even if your little Houdini were able to escape the kennel or the off leash area, he or she is still safely enclosed by our 6 foot fences. At night your dog will be indoors and the doggie doors will be secured.
All kennels and cottages are monitored by our security system, including smoke detectors.